Dream-Property aka Dream-Multimedia Gmbh is introducing a new satellite tuner's decoder generation. The new amazing DVB-S2 tuner marked HIGO42-B1 is the result of the constant evolution and research of Dream Property satellite's products in the top of the class, state of the art Set Top Box products. The main new characteristics are due to high-tech and high quality components from Silicon Labs. The new two channel demodulator single chip, has lots of capabilities, newest Low Pass Filter (LPF), Phase Locked Loop (PLL) circuit and integrated voltage controlled oscillator (VCO) into the RF block provide ultra-fast satellite scanning, blind scan, auto-gain, with very low heat and power consumption, to this new low profile tuner. The tuner is compatible with the exsisting models and will be compatible with GOLIATH.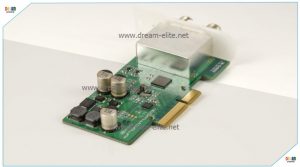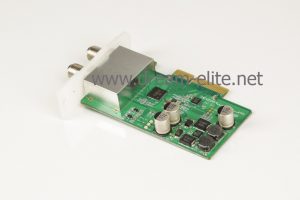 The new tuner chipset is a Si21662 from Silicon Labs here is the manufacturer Description and Features:
Description The Si21662 integrates two separate high performance DVB-S, DVB-S2 and DSS digital demodulators into a single compact package for satellite TV standards. Leveraging Silicon Labs' proven digital demodulation architecture, each embedded demodulator achieves excellent reception performance for each standard while significantly minimizing front-end design complexity and cost. Connecting the Si21662 to a dual satellite tuner, results in a high-performance and cost optimized TV front-end solution. The satellite demodulation functionality allows demodulating widely deployed DVB-S, DIRECTV™ (DSS) legacy standards, and new generation DVB-S2 (AMC compliant) satellite broadcasts. A zero-IF interface allows for a seamless connection to market proven satellite silicon tuners. Constant Coding Modulation (CCM), QPSK/8PSK demodulation schemes and broadcast profile are the main specifications of the DVB-S2 demodulator. Silicon Labs' innovative LDPC and BCH decoding architecture delivers best-in-class reception while exhibiting low power dissipation. The Si21662 offers an on-chip blind scanning algorithm for DVB-S/S2 standards. It also integrates two DiSEqC™ 2.0 LNB interfaces for satellite dish control and, for each satellite demodulator, an equalizer to compensate for echoes in long cable feeds from the LNB to the satellite tuner RF input. The Si21662 embeds two independent programmable transport stream interfaces which provide a flexible range of output modes and are fully compatible with all MPEG decoders or conditional access modules to support any customer application.
Features
– DVB-S2 (ETSI EN 302 307 and TR102-376)
– QPSK/8PSK demodulator and FEC decoder
– Broadcast profile CCM, 64800 bits frame, single TS
– 1 to 45 MSymbol/s – DIRECTVTM AMC compatible
– DVB-S (ETSI EN 300 421)
– QPSK demodulator and enhanced FEC decoder
– 1 to 45 MSymbol/s – Dual DiSEqC™ 2.x interface, Unicable support
– Enhanced immunity to co-channel interferers
– I 2C serial bus interfaces (master and host)
– Dual independent differential ZIF I/Q inputs
– GPIOs and multi-purpose ports (two per demodulator)
– Firmware control for upgradeability
– Separate flexible TS interfaces with serial or parallel outputs
– Fast lock times for all standards
– Only two power supplies: 1.2 and 3.3 V – 8×8 mm, QFN-68 pin package, Pb-free/RoHS compliant
– Pin-to-pin and API compatible with all dual demodulator family: Si216x2
Applications
– Multi-receiver iDTV: on-board or in a NIM
– Advanced multimedia PVR STBs
– PC-TV accessories
– PVR, DVD, and Blu-Ray disc recorders